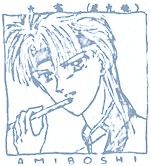 Full name: Bu Kotoku
Seishi Identity: Amiboshi
Birthplace: Kutou Country
Birthdate: August 26
Astrological sign: Virgo
Age: 15
Bloodtype: A
Family memebers: Suboshi, his twin brother
Height: 168cm
Seishi Symbol: High spirit, 'Ko'. On the right shoulder
Special Power: Able to control life energy, 'qi', by using his flute.
Hobbies: Composing music using his flute

Character: Amiboshi is a stable and careful person. He is sometimes very energetic and sensitive. He is a young man with a kind heart, and always plan for the future. His reason to live is to protect his brother, Suboshi. Due to this fact, he feels very painful while struggling between the Suzakus and the Seiryuus.