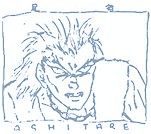 Full name: N/A
Seishi Identity: Ashitare
Birthplace: North Hokkan
Birthdate: November 12
Astrological sign: Scorpius
Age: 34
Bloodtype: N/A
Family memebers: A mother who was a criminal
Height: 213cm
Seishi Symbol: Tail, 'Bi'. On the right abdomen
Special Power: Transforms into a wolf
Hobbies: Eating human flesh

Character: He is a mixture of wolf and human. He is always sent by Nakago to do some senseless work since all he knows nothing but to kill. He does not really have a brain since he does not know how to think.