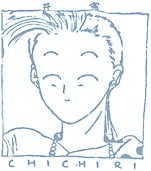 Full name: Houjun
Job: A monk who doesn't belong to any religious groups
Seishi Identity: Chichiri
Birthplace: N/A
Birthdate: May 21
Astrological sign: Gemini
Age: 24
Bloodtype: N/A
Family memebers: N/A (he had a lover)
Height: 175cm or under 1 inch
Seishi Symbol: A well/ tidy, 'Sho'. On the left knee
Special Powers: Magic power
Hobbies: Fishing

Character: Wearing a mask all the time, appears and disappears in aynwhere at anytime, Chichiri is a mysterious person. Although playful for most of the time (shrinks), he can sometimes be very serious. When compared to the seven seishi, he has a pretty bizarre character. He is truthful, heroic, and not greedy at all. He also knows how to use the magic taught by TaiiTsuKun.