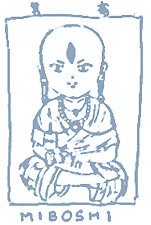 Full name: N/A
Seishi Identity: Miboshi
Birthplace: N/A
Birthdate: N/A
Astrological sign: Sagittarius
Age: N/A (should be quite old)
Bloodtype: N/A
Family memebers: N/A
Height: N/A (the picture on the left is only a body of a monk that is controlled by Miboshi. Miboshi doesn't have a figure.)
Seishi Symbol: According to the dictionary, his symbol in Chinese means drainage basket, but I don't think this is its meaning. On the neck
Special Power: Takes over people's bodies
Hobbies: Manipulates people

Character: Miboshi is an evil monk. According to the manga, it seems that he is not human, he does not have a body. He indeed has great power since he can takes over and controls other's bodies.