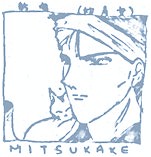 Full name: Myo Jyuan
Job: Doctor
Seishi Identity: Mitsukake
Birthplace: N/A
Birthdate: May 7
Astrological sign: Crow
Age: 22
Bloodtype: O
Family memebers: A passed away lover
Height: 199cm
Seishi Symbol: to be sad, 'Shin'. On the palm of left hand
Special Powers: Healing people
Hobbies: Spending time with animals

Character: Mitsukake seldom talks. Since he doesn't show his feeling much, people findhime pretty difficult to approach. He is only too shy to express his personal feelings. He treats the elderly, animals and the sick with great care and love. He is calm and gentle. He still misses his passed away lover till this moment.