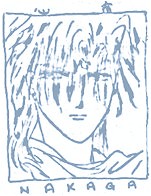 Full name: N/A
Title: General of Kutou Country
Seishi Identity: Nakago
Birthplace: Western China
Birthdate: November 17
Astrological sign: Scorpius
Age: 25
Bloodtype: N/A
Family memebers: N/A
Height: 193cm
Seishi Symbol: Heart, 'Shin'. On forehead
Special Power: Psychokinesis
Hobbies: Threatens Tamahome

Character: Nakago is cold-blooded. 'Shin' in Chinese means heart. XinSu means a kindered heart, which definitely does not suit Nakago. He is not sensitive at all. To him, people who are useless equals nothing and should be eliminated. When he finds a person who's beneficial to him, he will try his best to please the person.