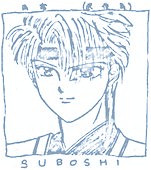 Full name: Bu Shunkaku
Seishi Identity: Suboshi
Birthplace: Kutou Country
Birthdate: August 26
Astrological sign: Virgo
Age: 15
Bloodtype: A
Family memebers: Amiboshi, his twin brother
Height: 168cm
Seishi Symbol: Angle, 'Kaku'. On the left shoulder
Special Power: Using psychokinesis to control ryuseisui (a weapon)
Hobbies: Doing exercise

Character: Unlike his brother, Suboshi is rude, stubborn, and careless. He really loves his brother, since they grow up together under such a difficult situation (civil war). He can do anything for his brother. Yui is another person whom Suboshi cares about because he loves her. Due to this fact, he hates Miaka, and envies Tamahome.