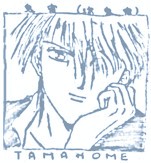 Full name: Sou Kishuku
Seishi Identity: Tamahome
Birthplace: Konan Country
Birthdate: June 28th
Astrological sign: Cancer
Age: 17
Bloodtype: O
Family memebers: A father, 2 younger brothers and 2 younger sisters. His mother passed away when he was 12 years old.
Height: 180cm
Seishi Symbol: Ogre, 'Onii'. On forehead
Special Powers: He knows all kinds of KungFu
Hobbies: saving money

Character: Since his father is very ill and is the eldest in the family, therefore the responsibility of taking care and supporting the family is on Tamahome. He appears to be happy and optomistic as if he doesn't care about anything, he is actually a pretty stubborn person. He is an innocent and shy. (Miaka is his first love). He does not care about his own safety when protecting others. He also will not hesitate to fight even when facing a strong enemy.